Pennsylvania Gameroom Warehouse
gameroomwarehouse.com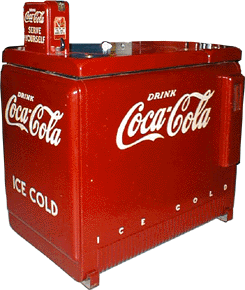 "Wet" cooler made by Westinghouse with a Vendo coin mech. All original with unique selection mechanism, insert your coin and pull the lever, circular panel rotates to next available bottle. Open the door and retrieve your drink, Coke in bottles as it was meant to be. Own the Master for the ultimate nostalgia touch.

1939
59 Bottles
Original Finish
$945.00
...Back to our Vending Machine Lists page
---